Your budget is always a key concern when you're preparing for a big move. You want all of the benefits that come from working with a home moving service. You value the speed, precision, and expertise that these services provide. But at the same time, you don't want to break the bank. You have a limited amount of money to spend and you need to get movers who are cost-effective and professional.
The question is how?
Balancing cost with quality is always a key concern when choosing a company that helps you move. With the following tips, you can speed up the search and ensure you find the right movers for you.
Tip No. 1 – Know What You Need
Many home move services offer more than just picking up your stuff and dropping it off. They may provide packing, specialist moving for high-value items, such as pianos, and a host of other services. You'll often find that you don't require all of these services when moving home. As such, accepting them as part of your quote means you end up paying more than you should.
There's a simple solution to this issue:
Know what you need from your home moving company.
Knowing what you want allows your movers to tailor their services to your requirements. You don't get charged more than you should be paying because your requirements are easy to follow. Better yet, understanding the extra services that could benefit your move helps you to compare quotes. A company that may seem cheaper at first could cost you more if they charge extra for a service that another company includes in its quote.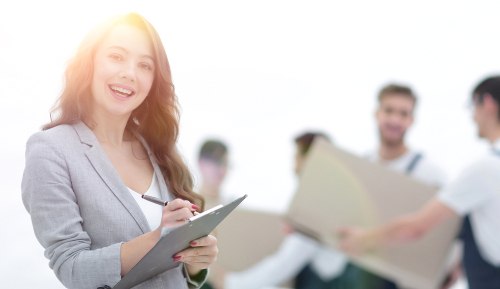 Tip No. 2 – Schedule Your Move for a Weekday
There are two general rules of thumb relating to how your scheduling affects your home move service's cost:
You'll pay more if you schedule the move at short notice.
High-demand times, such as weekends, cost more.
For the first rule, aim to speak to movers as early as possible. The more notice you can provide, the more likely it is they'll be able to fit you into their schedule. Furthermore, providing several weeks, or even months, of advance notice means the movers won't charge you for the priority service they'd provide for a short notice move.
The second rule is all about demand.
Most people schedule their moves for the weekend because they're off work and can take part in the process. Unfortunately, this creates demand that domestic movers account for in their prices. Expect to pay between 20% and 30% more for a move if you schedule it for the weekend.
By contrast, moving companies experience less demand on weekdays. They'll likely charge lower prices for their services and may even offer discounts. The latter is more of a possibility if you're moving during lean periods for the moving company, such as the winter.
Tip No. 3 – Collect Plenty of Quotes
As much as you may like the people at the family-owned moving company down the road, accepting their quote without doing any research could lead to you paying more than you should.
You must collect as many quotes as possible when searching for a home moving service.
Gathering multiple quotes gives you the chance to communicate directly with the movers you're considering using. It's a handy way for you to gauge the company's customer service skills. If the company delays providing a quote or isn't friendly when doing so, you can likely expect that same level of service during the move.
Collecting quotes gives you a better idea of what you should expect to pay for your move. You can create an average based on the quotes provided and immediately eliminate any relocation moving services that quote above that average. Understanding the average cost of your move also encourages you to look closer at cheaper quotes. You may find that the least expensive company tacks on hidden charges or misses crucial services when providing your quote.
Tip No. 4 – Collect Recommendations
Word of mouth is a powerful thing. Many of us rely on the opinions of other people to gauge the quality of a service we're considering buying. In fact, 92% of consumers state they value recommendations from their family or friends more than a company's advertising.
Follow that example.
Your family and friends are great sources of information about moving companies. Speak to anybody who's recently undertaken a move and ask about the company they worked with. The cost will obviously come into the conversation. But you're also looking to learn more about the quality of the service provided and how the relocation movers treated your friend or family member.
If you don't know anybody who's moved recently, the web provides plenty of information about the movers you're considering.
Look for online reviews on social media, the company's Google business account, and any independent review websites. These reviews give you information from a third party, which you can generally trust more than the marketing messages a home moving service sends out. After all, any moving company that wants your business will put its best foot forward. It will tell you about all of the benefits of its service while hiding negative feedback. With a little research, you may discover that a company that seems great on the surface isn't all it's cracked up to be.
Tip No. 5 – Ask About Discounts
You won't get something if you don't ask for it.
That's the philosophy behind this tip. Though many movers will offer discounts upfront as a way to win your business, some may deliver a standard quote without putting thought into discounts. It never hurts to ask these companies if there is anything they can do to reduce your costs.
Some will flat out refuse to reduce the cost of their service.
But you may find that some home move services will provide discounts if you schedule with them at certain times or present evidence that another company has quoted less for the move. Finally, it's worth enquiring about any discounts you see on the mover's website. Confirm that the discount has been applied to your quote to ensure you're getting the lowest possible price.
Tip No. 6 – Ask for the Company's USDOT Number
Any home moving service that operates intrastate, and even many that work interstate, require USDOT numbers. These are unique identifiers that you can research online to confirm the company is licensed to operate commercial vehicles. A moving company that doesn't have a USDOT number (or an MC/MX number if a USDOT number isn't required) isn't registered with the Federal Motor Carrier Safety Administration (FMCSA).
That's a red flag.
Lack of registration suggests the company cuts corners. A home moving service may be cheaper than others because it isn't licensed and simply doesn't provide the level of service you require. Be wary of any company that refuses to provide its certification credentials or tries to change the subject when you ask about them.
You can also check that your home moving service has provided legitimate credentials online. The FMCSA's Snapshot database allows you to check movers by name, MC, MX, and USDOT numbers. If the company doesn't appear in the Snapshot database for the details it provides, you may want to look elsewhere.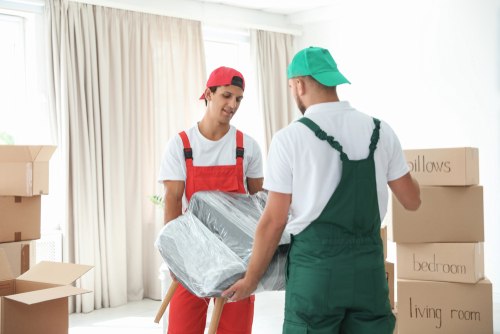 Tip No. 7 – Handle the Packing Yourself
The average home moving company charges between $25 and $50 per hour, per mover. If your move takes four hours and requires three movers, that means you can expect to pay between $300 and $600.
The point is that time is a factor when looking for moving services on a budget. The more you can do to reduce the time the moving company takes, the less you'll pay for its service.
That's where handling your own packing comes in.
A moving company that has to handle the packing and unpacking of your items for you requires more time to do its work. It can't simply load up your furniture and get moving. Often, packing everything in your house takes several hours that you have to pay for.
By packing yourself, you reduce the labor load on your movers. Less labor means lower costs, allowing you to save money. Granted, you may find that you struggle to pack some items, such as large appliances or expensive equipment. In these cases, you can still reduce your costs by packing what you can handle so your moving company only charges packing fees for a small percentage of your items.
Tip No. 8 – Look for Trust Signals
Reviews are the most obvious trust signals you can look for in a home moving service. If a lot of people are saying good things about the company online, you can usually trust the consensus opinion.
But there are other trust signals to look for.
Appropriate licensing and insurance are both huge. We've discussed USDOT numbers already, so always check for those numbers when speaking to companies. In terms of insurance, confirm the domestic movers have liability cover. Ask for a Certification of Insurance and check the policy's fine print. For example, some movers may require you to prove negligence before making a claim. You might also find that some policies cap the amount you can claim for. Ideally, the mover's insurance policy should cover the full value of the goods it's transporting.
Beyond these basic trust factors, look for professional affiliations. Membership in moving organizations shows that the company takes the quality of service seriously. Affiliation with any local businesses or charities demonstrates that other companies trust the mover enough to be a part of its marketing efforts.
Tip No. 9 – Check Small Local Movers
When searching for a reliable home moving company, your first instinct might be to search for large businesses that operate in your area. The logic behind this approach is sound. Companies grow because a lot of people use them. A company that doesn't provide the quality of service these people require won't grow because it'll develop a poor reputation.
Company size is a measure of success and quality.
But it's not the only thing to consider when searching for a low-cost home moving service. You'll often find that small local movers, such as a family-owned moving company, offer cheaper services than a large company. Check with these smaller movers as well. While they may not have the same reputation as the big players in the industry, they could provide a more cost-effective and personalized service.
Tip No. 10 – Ask the Right Questions
You've received a quote and it's exactly what you're looking for. It's under budget, provides the services you need, and arrived quickly enough that you feel like you can trust the mover's services. You've also researched the company online and everything seems to check out.
You're ready to go ahead, right?
Not just yet.
Before signing on the dotted line, take some time to ask the home moving service a few key questions:
What is their USDOT number?
How long have they been in business?
What's the company's full name and address?
What services are included in the quote?
Does the company charge extra fees for toll roads?
How long will it take to move your items?
Are your pick-up and drop-off dates guaranteed?
Does the company use subcontractors?
You'll ask these questions for two reasons. First, you want answers to many of these questions to make your choice. Second, the questions help you gauge how the home moving company responds to customers. A good moving service should offer quick and transparent answers. If the company treats answering your questions like it's a burden, you may find that approach carries through to its moving service.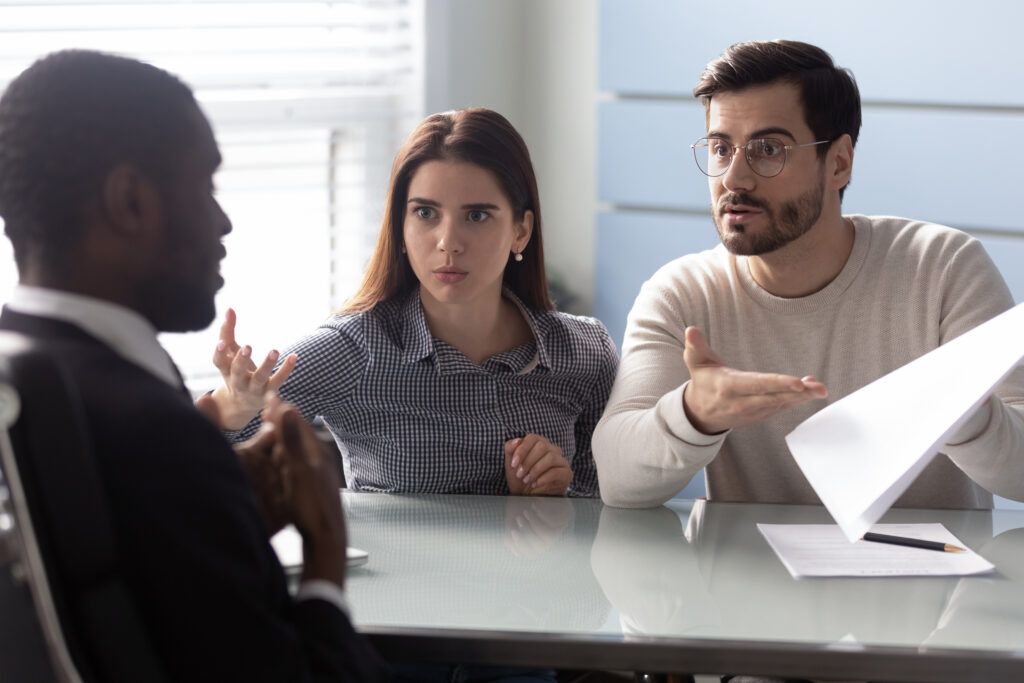 Find Great Movers on a Budget
As crucial as it is to stick within your budget when moving, you can't allow your search for the cheapest price to overshadow your need for a good service. Going with a rock-bottom quote may help your bank balance in the short term. But that won't mean much if the home moving company offers poor service or incorporates hidden charges into its fees.
It's all about balance.
The tips in this article help you to find a moving company that fits your budget while still providing the level of service you require. Now, we want to help you more directly. At American Movers, we offer local and long-distance moving services to residential customers. If you'd like to get a quote from our team, check us out online or call at 1 (888) 849-1940.