"Should I hire movers," you ask yourself, "or is self-moving the better option?"
That's a big question. You have so much on your plate with the move that the idea of hiring professionals to handle it for you is appealing. But at the same time, you're working to a budget and there's that little voice inside your head telling you to get a few buddies around to take care of the move.
Which option should you choose?
In this article, we'll help you to answer that question. We'll look at the pros and cons of both options so you can make the right choice for your situation.
Moving Yourself
There are a lot of upsides if you choose not to hire a mover. But at the same time, you're accepting that you'll have to handle a lot of hard work on top of everything that comes with uprooting your life.
The Pros
There are plenty of attractive reasons why people choose the self-moving option.
No. 1 – Saving Money
If you're on a tight budget, you want to save as much money as possible. Hiring movers requires you to shell out some cash, even if you're only moving a short distance. The moving company still has to load and unload your items, meaning you have to pay for labor and any equipment they use.
Moving yourself is far more cost-efficient. You can rent a U-Haul for about $50 per day, get a few friends to help you, and have the move completed by the time you have to return the vehicle. At least, that's the ideal situation. But even if things go wrong and you need to hire the moving van for a little longer, you'll still save money when moving yourself.
No. 2 – Complete Control
You have control over every aspect of the move when you do it yourself. Moving companies have their own processes, some of which you may not agree with. By moving yourself, you're in charge of how your items are packed, loaded, transported, and dropped off. This control comes with the additional benefit of being able to determine who helps you with the move. If you don't trust a third party to do the job, having control may make you feel more secure when moving.
No. 3 – No Standards to Maintain
You may find that hiring professional movers comes with more work than you anticipated. If you choose to handle the packing portion of the move yourself, your moving company may have strict guidelines for you to follow. It'll likely want you to keep tidy boxes that are closed, taped, and labeled.
You don't have to worry about any of that when moving yourself.
Your biggest concerns are hiring a moving truck and getting some people to help. You can pack your items however you want and nobody can tell you otherwise.
No. 4 – You Control the Timeline
Do you have the time to handle your move over several days or weeks? Doing it yourself may be the better option in this situation. Moving companies like to work to strict timelines because they have schedules to keep. They want to get in, do the job, and then move on to the next client. If you want to take a more relaxed approach to your move, and have the time to do so, you may not need a moving company.
The Cons
As attractive as many of those benefits may seem, there are several drawbacks to moving yourself to consider before you start looking at hiring a moving van.
No. 1 – All the Lifting Is on You
Loading a few boxes into a moving van is simple enough. But what happens when you get to the sofa or the bed? Maybe you have a valuable instrument, like a grand piano, that you need to move. These heavy-duty items require strength, multiple people, and a little expertise to move around.
If you're an inexperienced mover, you may find that some of the heavy lifting is beyond you. Even if you can handle the lifting portion, trying and failing to manipulate large items around narrow hallways can lead to damage that professional movers wouldn't cause. Of course, there's the possibility of hurting yourself to consider as well.
No. 2 – You're in Control
Granted, we said control was a pro earlier on.
But it can also be a drawback.
If you're in control, you're in charge of handling the planning for the entire move. That means organizing schedules so you have enough people to help you and ensuring you hire all of the equipment you need for self-moving. Those may not seem like big jobs in isolation. But when you add work, taking care of your family, and trying to adapt to other people's schedules into the equation, you might find that having complete control isn't all it's cracked up to be.
No. 3 – Costs Can Add Up
Lower costs are one of the big benefits of a self-move. Hire a moving truck and get on with it, right? Except it doesn't always work out that way. If something unexpected happens, you may have to hire your truck for several days. Inexperienced movers can cause damage to your previous or new home, which you have to fix. Plus, you'll have to pay even more money if you need specialist equipment for heavy items.
Generally speaking, those costs still won't add up to the amount you'd spend when paying for movers. But when combined with the fact that you're doing all of the hard work yourself, the money you're spending can accumulate to the point where you start asking yourself "should I hire a moving company?"
No. 4 – Not Ideal for Time-Sensitive Moves
If you're working to a strict deadline, even the smallest of issues can create delays that thwart your plans. Time-sensitive moves require people who know what they're doing. Inexperienced movers often forget about the equipment they may need or find that they can't pack and move items as quickly as they thought they would.
Hiring Movers
Are moving companies worth it?
While the cost of working with movers may hold you back, there are plenty of reasons to consider working with professionals. Let's look at the pros and cons.
The Pros
You should hire a mover if any of the following benefits of working with moving companies appeal to you.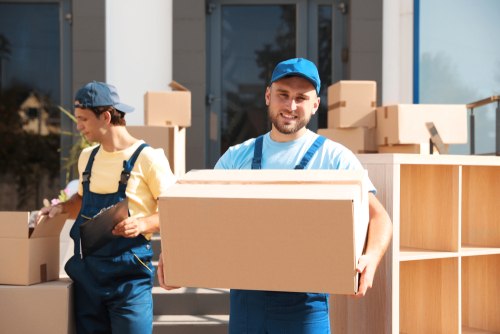 No. 1 – You Don't Have to Do a Thing
Are movers worth it?
They are if you like the idea of kicking back and letting somebody else handle the hard work for you. Good moving companies offer packing, transporting, and storage services. They schedule a date, turn up on time, and do what you ask them to do. There's no worrying about how you're going to move heavy items and no planning or trying to corral your friends into helping.
No. 2 – Efficiency
When you hire a mover, you sign a contract that specifies what the mover will do and the timeframe they'll do it in. That contract is important. It tells you that your moving company will handle the task with a level of efficiency that you can't manage if you're relying on friends to help you move.
You won't have to worry about people not turning up or losing hours figuring out how to get an awkward item out of your house. Your moving company conducts an inspection before it agrees to the move. It accounts for any difficult situations and plans accordingly before turning up. If you need to move quickly, hiring a mover is far more efficient than trying to plan and execute the move yourself.
No. 3 – No Heavy Lifting
There are many reasons you may not feel comfortable lifting heavy items. Perhaps you don't have enough people to help you or you have an injury that makes lifting difficult. You might also worry about the damage heavy lifting could do to your physical health, especially if you're getting older and don't feel as comfortable hauling things as you used to.
Hiring a moving company means you don't have to worry about hurting yourself when moving home. The company sends the appropriate number of people for the job and comes with the equipment needed to handle awkward and heavy cargo.
No. 4 – Insurance
All moving companies offer some form of basic liability coverage to clients. This insurance covers some of the cost of any items that are damaged or lost during the move, though it won't cover everything. You may find that the company offers the option of full-value insurance, which is more comprehensive protection that provides complete coverage.
Either way, you receive more protection for your items than you would when moving yourself. While your home insurance could cover the cost of any items you damage when moving yourself, it's often difficult to claim if you're at fault for the damage.
The Cons
Though hiring a moving company comes with plenty of advantages, and is far less stressful than doing it yourself, there are several drawbacks to consider.
Con No. 1 – The Cost
There's no getting around the fact that you'll spend more when you hire a mover. Costs vary depending on several factors, including the time the move takes and the weight or the items the movers need to transport. But you'll usually spend something in the region of $900 to $2,400, though you may spend even more if you're moving out of state.
Compare that to the cost of hiring a moving truck, hiring equipment, and paying for gas. Even with the convenience of using movers, your budget may not stretch to using them.
Con No. 2 – No Flexibility
Once you've hired movers, you set a date and have to stick to it. Moving companies don't like last-minute changes because changes mess with their schedules. You don't have control over the move outside of choosing which company to use. The movers may even have specific rules for how you should pack items if you're not paying them to do it for you. All of this adds up to a lack of flexibility.
Using a moving company means you don't have the control you'd enjoy if you did it yourself. Of course, that lack of control comes with the upside of getting all of the work done for you. But if you like to be the one in charge, you'll have to sacrifice that desire when working with movers.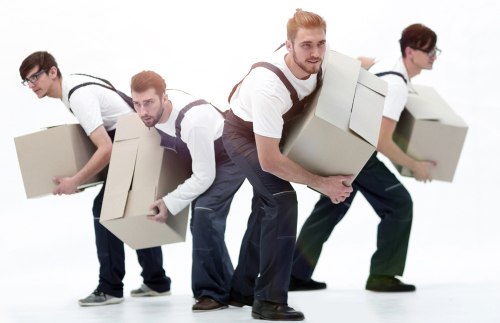 Con No. 3 – Searching for the Right Company
Calling the first moving company you find online isn't the best option when choosing movers. You have to speak to several companies, gather quotes, and research company credentials to ensure they're legitimate. Unfortunately, scammers operate in the moving industry. Some companies will take your money up front and not turn up or charge hidden fees that lead to you paying hundreds of dollars more than you anticipated.
These problems can be avoided with appropriate research. But that research takes time and effort that you may not want to expend when dealing with everything else associated with your move.
Is It Worth It to Hire Movers?
When you hire a mover, you're allowing a third party to handle the hard work for you. Your only job is to sit back and let somebody else do the heavy lifting. The only thing you have to worry about is how you're going to get to your new home. But on the flip side, hiring movers requires extensive research and comes at a cost that doesn't suit your budget.
Doing it yourself gives you control and costs far less than hiring movers. However, you have to plan everything, do the heavy lifting, and potentially deal with flaky friends who don't turn up when they say they will.
Ultimately, the choice is yours.
But if you're leaning toward hiring a moving company, American Movers is here to help. We offer local and long-distance services, with efficient movers capable of boxing and moving your items quickly. Our company is registered with the Federal Motor Carrier Safety Administration, our employees are insured, and we'll do everything we can to keep your moving costs as low as possible.
Would you like to learn more?
Contact us online or call 1 (888) 849-1940 to speak to a member of our team or request a quote.