You're moving home, which means you have a lot on your plate right now. You're probably still dealing with paperwork related to the move, in addition to handling professional issues.
But at least you don't have to worry about the move itself. You've hired a moving company that's going to do the whole thing for you. The quote was inside your budget, you've signed on the dotted line, and your move is set.
The big day arrives.
You wake up ready to move your life across the country. The time comes for your moving company to turn up. And it doesn't. So, you wait a few minutes. There's still no sign of them. You call the company to confirm that they're still coming and nobody answers the phone. It's only an hour or two later that you realize you were scammed and you've just lost the money you spent on the movers.
It's a nightmare scenario.
Unfortunately, it's also a situation that far too many people find themselves in when moving home. It's a sad fact that there are fake moving companies out there that scam customers to make a quick buck. You need to avoid these companies at all costs. That's where this article comes in. We explain what to look for to ensure you only work with legitimate moving companies.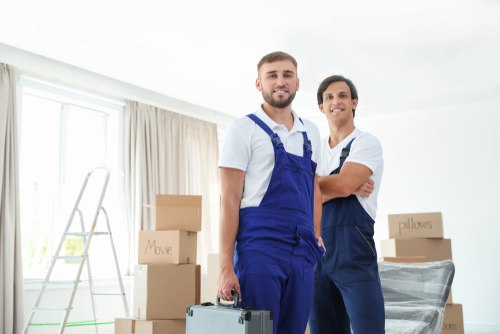 The Scale of the Scamming Problem
"That scam situation sounds terrible," you say to yourself. "But what are the odds that it will happen to me? There can't be that many fake moving companies around."
Regrettably, there are more than you may realize.
In 2022, Move.org surveyed 600 people who'd moved home between 2020 and 2022. It discovered that approximately 40% of them had fallen victim to fake moving companies. That amounts to about 240 of the 600 people surveyed. Furthermore, the organization examined the Better Business Bureau's statistics and found that 660 people had reported moving scams in the United States between January 2020 and January 2022.
The scams took many forms.
Move.org's data shows that 59% of respondents were charged more than originally quoted for their moves. And 47% claim the fake moving companies that scammed them have since changed their names and continue to operate.
The data also shows us how much money these scams cost.
The majority of those who feel they were scammed lost between $100 and $500. About 10% claim they lose between $1,000 and $3,000 to fake moving companies, with 14% claiming the scam cost them over $3,000.
The message is simple:
Fake moving companies are out there and they're deceiving consumers. To ensure you don't fall victim to these scammers, you need to know about the techniques they use that make them different from legit moving companies.
The Signs of a Scam
There are many signs that indicate you may not be dealing with accredited moving companies when searching for a moving service. All of these issues should give you pause for thought before hiring the company.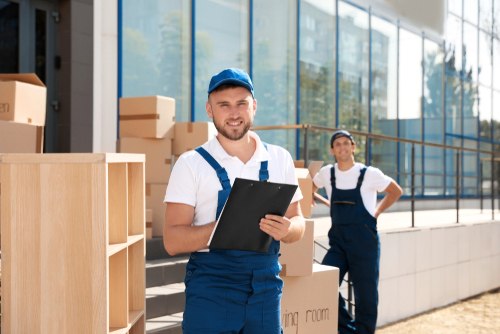 Sign No. 1 – Barely Examining Your Property
No certified moving companies will ever claim they can give you an accurate estimate over the phone. At most, they'll provide a general quote followed up by a request to visit your property. They need to see what you're moving. After all, the size and weight of your belongings factor into the price you pay. If a company doesn't visit your home to see what it needs to move, you're likely dealing with a scammer.
But you're not out of the woods if the company visits you.
Pay attention to the estimator as they examine your property. A quick walk-through is rarely enough to determine the scale of a move. If the estimator isn't asking questions about what you're going to move, whether you intend on getting rid of items, and what you intend to do with perishable goods, they're not conducting a thorough walkthrough.
Sign No. 2 – Requiring a Deposit
Registered moving companies don't ask their customers for deposits. You shouldn't have to pay a penny upfront for your moving service. Paying upfront gives you no control over your money. If the moving company doesn't deliver on its promises, you may lose what you paid.
You can charge a deposit to a credit card, which gives you the option to withdraw the payment. But as a general rule, be wary of any moving business that asks for a deposit.
Sign No. 3 – Blank Contracts
Many fake moving companies rely on your desire to complete your move quickly to get away with their scams. They'll talk a big game on the phone or when they come to meet you. The company will promise a bunch of different services and give you a verbal price. But when it delivers the contract, the price quoted verbally isn't anywhere to be seen.
Why?
The company is counting on you to sign that contract based on what it's told you. It hopes that you'll either not notice the lack of a price or assume that the price you received in your verbal quote will get added later. If you sign, you give the company the right to charge whatever it wants, which is how so many people end up paying more than they expect for moving services.
Sign No. 4 – Lack of Insurance Transparency
Legitimate moving companies have either liability insurance or full value protection. Both policies offer you protection in the case that your goods are damaged in transit. Avoid any company that can't provide evidence of its insurance status.
Assuming the mover claims to have insurance, your next job is to dig a little deeper. Ask about the policy and what it covers. Request copies and check the fine print. Use these questions and requests to gauge the mover's transparency. If the company tries to tell you not to worry about these details, take that as a sign that it has something to hide.
Sign No. 5 – Name Changes
A lot of fake moving companies get away with their scams because they're constantly changing their names and addresses. Be wary of any company that answers the phone with a generic name, such as "moving services", rather than a full business name. Additionally, always check the address the company provides. Physically visit the address if you can or research it on Google Maps if the company is too far away. Many scammers provide fake addresses in the hope that a customer won't think to check them out.
Sign No. 6 – The Mover Doesn't Provide Mandated Information
There are two things legit moving companies provide with their service.
First, a USDOT, MC, or MX number. These are unique identifiers that tell you the company is licensed to operate by the Federal Motor Carrier Safety Administration (FMCSA). You can check the numbers the company provides using the FMCSA's Snapshot service. This database is also great for checking the name a moving company gives you.
Second, the company must give you a copy of a booklet entitled "Your Rights and Responsibilities When You Move." This isn't an optional document. Federal law states that movers must give this booklet to every potential customer. You can check the document online to ensure the copy you receive matches.
Sign No. 7 – "Guaranteed" Contracts
Your moving company shouldn't offer a 100% guarantee on any price it quotes. Situations can arise that cause even legitimate moving companies to charge more than they estimated. As secure as a guaranteed quote sounds, it's actually a sign of a potential scam.
Moving companies in the United States can only offer two types of quotes:
Binding Estimate – A guaranteed price for the move with a provision that the price will increase if you ask for any services beyond those quoted.
Non-Binding Estimate – A quote that means the moving company can only charge up to 10% more than its estimate.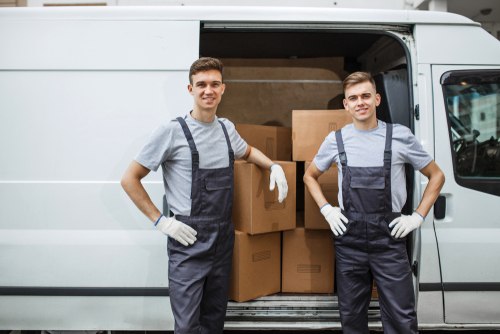 Finding Legitimate Moving Companies – The Crucial Tips
The above signs are all red flags in your search for a moving company. Be wary of any movers that display these signs as the odds are that they're not legitimate.
In addition to looking for those signs, there are a few things you can do to confirm that you're speaking to legit moving companies.
Tip No. 1 – Check Online
The internet is not some new technology that moving companies are still getting to grips with. Even small moving companies invest in websites because they know that the internet is a valuable source of business. If your company doesn't have a website or social media presence, there's usually a good reason for it. And that reason is often that the company doesn't want you to be able to trace them online.
Always check for a website.
Whether the company has a site or not, you should dig deeper in your investigation. Look for social media, Google Business, and Better Business Bureau profiles. You want to see reviews and evidence that the company interacts with its customers online. These are trust signals that tell you the company is an operational business. Of course, reviews that talk about the movers not turning up or charging more than they should tell you all you need to know about a company's legitimacy.
Tip No. 2 – Listen Out for Charging by Cubic Foot
"We charge based on cubic footage."
That sounds legitimate, right? It seems like a moving company could estimate the cost of your move based on the size of your property. But that's not the case. Legitimate moving companies use the weight of your items, as well as the size, to determine their costs.
After all, heavy items require additional labor or equipment. A company that claims to charge by cubic foot isn't accounting for that work. Either the company doesn't pay enough attention to detail, which means you don't want to work with it. Alternatively, the company is trying to use professional-sounding language to trick you into thinking it's okay that they can give you a "guaranteed" estimate without visiting your property.
Tip No. 3 – Request a Free Estimate
There's a simple logic behind this tip.
The FMCSA requires all of its registered moving companies to offer potential customers a free in-home estimate. If your movers won't visit your property or, worse yet, try to charge you for the visit, you're getting scammed.
Free quotes are a federal requirement. Don't work with any company that won't provide them.
Tip No. 4 – Look at the Complaints
We touched on reviews already. You'll likely see some complaints in the reviews, even for legit moving companies. What you're really looking for here is how the company responds to the complaints it receives.
Does the mover respond with vitriol? Perhaps it doesn't respond at all. Both reactions show you that the company may be scamming its customers.
Fake moving companies don't take the time to acknowledge or resolve customer complaints. They don't care about them, often because they've already gotten what they wanted from the transaction. But a company that responds to complaints does so because it has a reputation to uphold, which suggests it's legitimate.
Avoid the Fakers
The United States has a definite problem with fake moving companies. The stats shared earlier in the article show that a huge number of people have fallen victim to scams. Those scams vary from companies charging far more than they quoted or tacking hidden costs onto their invoices to movers who charge in advance and don't show up on the moving date.
Vigilance is crucial when choosing your moving company. The good news is that you now know how to check if a moving company is legitimate.
Start by looking for the seven signs of fake moving companies shared in this article. If you spot just one of those signs, take it as your cue to search elsewhere. Furthermore, use our tips to dig deeper into any company that passes your initial checks. Are they present online? Do they respond to customer complaints? Does the company quote in a way that makes sense and abides by federal laws? Ask all of these questions before signing a contract.
You need to work with movers that you can trust. Confirming legitimacy is the first step. At American Movers, we pride ourselves on being transparent and professional in all of our interactions with customers. We're a licensed moving company that can help you with local and long-distance moves. To request a quote from our team, head online or give us a call at 1 (888) 849-1940.