You've made the decision.
You're hiring a moving company because you don't want to deal with the hassle and heavy lifting yourself. Making that choice almost feels like a literal weight has been lifted off your shoulders. But now you have more questions.
You need to know how to hire a moving company. You also need to know what to expect from your movers when they show up.
This article answers those questions by providing some hiring movers tips that show you how to find a mover. Plus, we'll explain what you should expect from a good moving company.
How to Choose a Moving Company – The Key Tips
Unfortunately, choosing a moving company isn't as simple as going online and selecting the first company that pops up in a Google search. You have to research every company you consider before making a final choice. If you don't, you leave yourself open to choosing a mover that doesn't deliver on its promises or, in the worst cases, scams you.
You want to avoid those situations, which is why you should consider these tips.
Tip No. 1 – Create a Shortlist
Start by doing some informal research on moving companies that may be able to do the job. Look for the companies that appear on the first page of Google searches. These companies are in those positions because they have authority and have invested in their marketing. If they're willing to spend money to ensure they appear in a high search position, they likely take their work seriously.
Ask your friends and family about any moving companies they've worked with in the past. Add any companies that other people recommend to your list. You should end up with a shortlist of mover hire candidates to research further.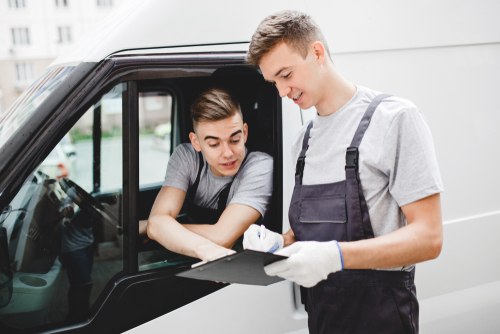 Tip No. 2 – Create a List of Questions
Once you have your shortlist of moving hire companies, switch focus to what you want to learn about each business. You're going to get in touch with them all, so you need questions that help you figure out if they're the right company for your needs.
Here are a few to get you started:
How long has your moving hire company been in business?
Can you provide me with references?
Do you have a USDOT number?
Have any customers filed complaints against your company and what did you do to resolve them?
What liability coverage do you offer and am I able to get additional insurance?
These five questions help you determine how much experience a company has and whether it's properly licensed and insured. The questions about references and customer complaints offer insight into how the movers deal with their clients. It's usually a good sign if a company can offer several references quickly. It shows that the business maintains good relationships with customers. For the complaints, you're asking about responses because you want to find out how the movers react to things going wrong. Even the best companies occasionally receive complaints, it's how they respond that really matters.
Tip No. 3 – Check the USDOT Number Online
One of the above questions involves asking for a USDOT number.
What is that and why is it important when hiring a moving company?
The Federal Motor Carrier Safety Administration (FMCSA) issues USDOT numbers to businesses that use commercial vehicles for business purposes. The number shows that the company is licensed to operate the vehicles safely. USDOT numbers are required in 35 states. Even in those states that don't require them, a USDOT number is a sign of a moving hire company's legitimacy.
Of course, a company could provide you with any old number and you wouldn't know if it's real or not at first glance. That's why you need to check the number online to ensure it matches up to what the company tells you.
That's where the FMCSA's Snapshot service comes in.
This handy tool is a database that allows you to enter a USDOT, MC, or MX number. It also lets you search for companies using their names. The tool brings up the company's key details, including its licensing status and business address. Compare these details to what the company tells you to confirm it's not lying about its status.
Tip No. 4 – Collect Quotes
Hopefully, every company on your shortlist provides a legitimate USDOT number and is verifiable online. Eliminate any that don't provide these details as you may not be able to trust them with your move.
Now that the list is whittled down, it's time to collect some quotes. You want a quote from every company so you can determine the average cost of your move. Any moving hire businesses that are too far above this average should be scratched from your list. Be wary of movers who fall a long way below the average too. While low costs may seem appealing, cheaper companies sometimes use their quotes to undercut better movers before charging hidden fees when it's time to handle the move.
Collecting quotes also gives you a chance to test your movers.
Reputable moving companies send estimators to your property before delivering a proper quote. They do that to account for any difficulties the move presents and to examine the items you need to move. Heavier items require more labor and time, which adds to your costs. The estimator should also work with you to create an inventory of the items you need to move.
A company that tries to quote without sending an estimator doesn't understand the full scale of the job. As such, it can't provide an accurate quote and should be avoided.
Tip No. 5 – Don't Pay a Deposit
Legitimate moving companies don't require cash deposits before they agree to handle your move. Instead, you should only pay upon the successful delivery of your belongings.
Be wary of any company that requires a deposit.
Avoid any firm that asks for cash outright. Once you've paid cash, you have no protection. The company could choose not to show up and you likely won't be able to get a refund. If you do pay a deposit, always use a credit card so you can withdraw the transaction later on.
Tip No. 6 – Check for Name Switches
How does checking for a name change factor into how to find moving company that can serve your needs.
Name switches are a bad sign. They usually mean that the company had a poor reputation under its previous moniker and has chosen to change names to get away from that reputation. Scammers also regularly change company names to avoid people who want to raise legal issues against them.
There are several ways to check whether a company switches its name.
First, call the company and pay attention to how it answers the phone. Reputable movers tend to answer with the full name of the business to confirm that you've reached the right people. Companies that change names will often answer the phone with something generic, like "moving company."
Second, checking the USDOT number, as mentioned previously, helps you see if the company operates under different names. It also helps to check with the Better Business Bureau to see if there are any records of the movers changing names.
Finally, search online for any complaints about the moving hire business. Pay particular attention to complaints that say the business was difficult to get in touch with, as these suggest the company may have abandoned its old name.
Tip No. 7 – Always Check the Contract
By this point, you've likely settled on a mover hire business that you think can do the job. They've sent an estimator to your property, delivered a quote, and your research shows they're legitimate. Signing a contract is all that's left to do.
Avoid any company that claims it doesn't need a contract. Verbal agreements are much harder to contest in court than written contracts. If a dispute arises, you want to have documentation that shows what the movers promised to undertake.
Once you receive a contract, take some time to read it thoroughly. Make sure the quoted price aligns with what you were told verbally. Check the fine print to see if there are any mentions of additional charges you may incur for things like toll booths or unexpected delays. Reputable moving companies work these charges into their quotes rather than keeping them separate in an attempt to make the quote seem smaller.
You should also receive an inventory list with the contract. Read through it to ensure that every item you want to move is on that list. If something is missing, contact the movers to get it added. You have no guarantee that unlisted items will reach their destination.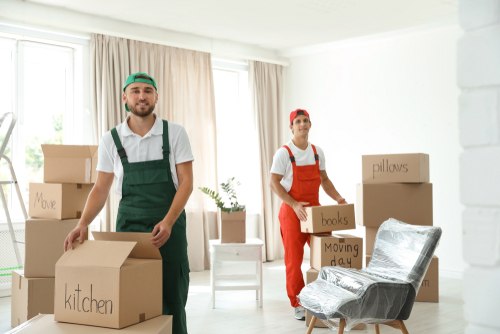 What to Expect From Your Moving Hire Company
You've selected your company and you're waiting for the big day. That waiting period may start to play on your mind, especially if you haven't worked with movers before. The uncertainty can leave you feeling anxious, which is why you need to know what to expect from your movers.
Punctuality
You have a contract with the moving company that specifies when they'll turn up and when they'll drop your items off. Though unexpected incidents can cause delays, your movers should meet the times in the contract. If something happens that delays the movers, you should receive immediate notification.
Quality Service
The services you can expect from your moving company vary based on what you've asked them to do. They may include:
Supplying packing materials
Packing your items for you
Furniture assembly and disassembly
Loading and unloading
Delivery
Disposal of packing materials
You can usually pick and choose between these services. Many opt to handle the packing themselves, which reduces the time the moving company spends on the task, thus lowering the cost. Others go for a full service so everything is taken out of their hands.
Whatever the case may be, you should expect your movers to handle the task with the utmost professionalism. That means politeness when speaking to you, taking care to lay tarps and cardboard to protect floors, and treating your items with respect.
Taking Inventory
We touched on this previously but it's worth mentioning again.
Reputable movers take a full inventory of what you need to transport before they start working. That inventory document is vital. It helps the movers to keep tabs on your items as they're loaded. It also protects you if something goes wrong as you can refer to the inventory when trying to prove that one of your items is missing.
Expect your mover to carry out an inventory inspection, likely alongside you, and avoid any who claim it isn't important.
Regular Communication
Your moving company should communicate well before, during, and after the move. You should receive confirmation messages before the move to confirm your date is in their schedule. Naturally, you'll be in direct contact with the movers during the move itself. And a good company will follow up to check whether there were any problems and confirm that you're satisfied with the service.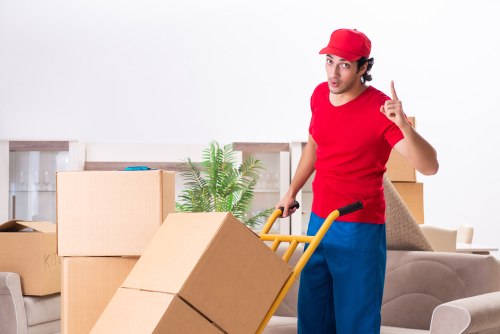 Find the Right Movers for You
Hiring the right moving company takes time.
You need to know how to find movers to conduct the necessary research before signing on the dotted line. Your search involves collecting recommendations, checking company credentials, gathering quotes, and paying close attention to how the business operates. The more research you do, the more secure you'll feel with the company you choose.
There's one more thing we haven't mentioned in this article:
Intuition.
Trust is a key component when working with a moving company. If your gut tells you that something's wrong, even if you can't put your finger on what it is, it's usually best to work with somebody else. Even legitimate moving companies struggle if their clients don't trust them.
At American Movers, we understand how important trust is to the moving process. That's why we're always available if you wish to discuss your move or get a detailed estimate. Our philosophy is simple. Tell us what you need and we'll make it happen.
Get in touch with us online or call our team at 1 (888) 849-1940. We'll work closely with you to ensure your move goes off without a hitch.